An ideal retreat for family and friends
Casa Lucia is a ten-acre property set in the Apuan mountains of northern Tuscany, with some of the most breathtaking views in all of Italy. Casa Lucia is a unique property that combines contemporary luxury with traditional Italian craftsmanship.
Casa Lucia is defined by exquisite stonework that is blended seamlessly with traditional materials such as oak, chestnut, terra cotta, and local granite. Throughout the home are beautiful antiques, stylish and comfortable furniture, and the finest quality linens, all of which will suit the most discerning guest. This luxurious home offers elegant and comfortable accommodation for eight people.
Booking Enquiry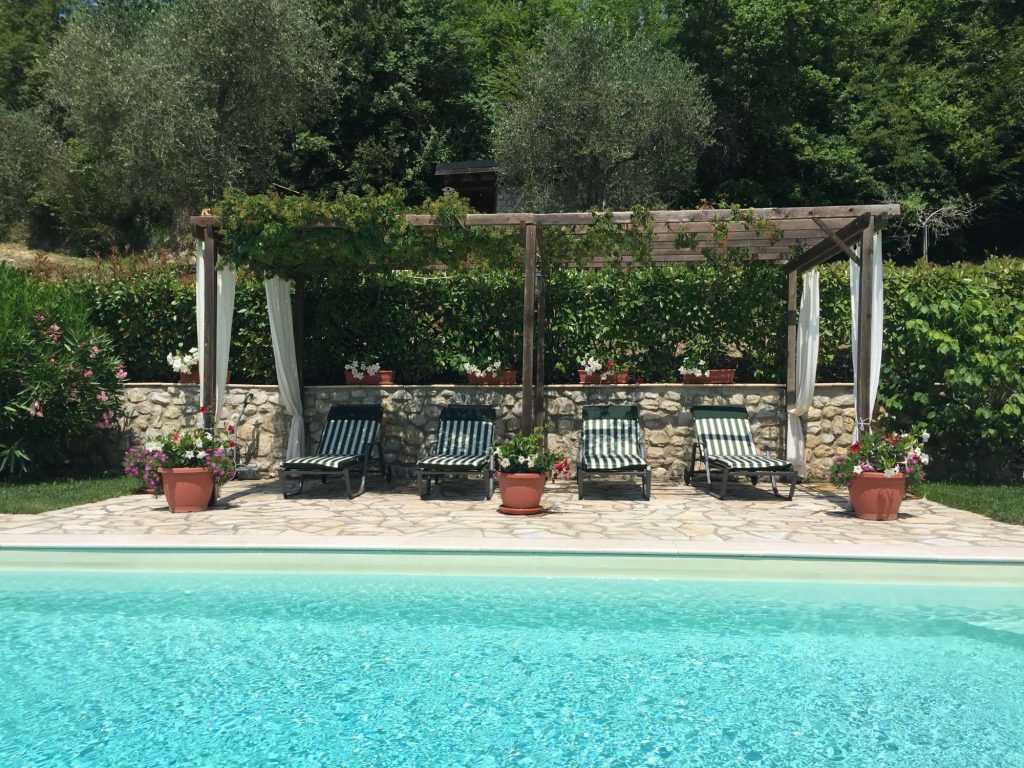 The perfect combination of comfort and elegance
The ground floor of the house features an immaculate, fully-equipped top-of-the-range chef's kitchen and open plan dining area, with French doors leading out to a large terraced eating area and outdoor kitchen with traditional wood-burning pizza oven and grill. The warm and inviting reception room featuring a classic open fireplace leads to a cozy study that opens out to another charming terrace with comfortable seating. A full guest bathroom and cloakroom complete the ground floor layout.
View Gallery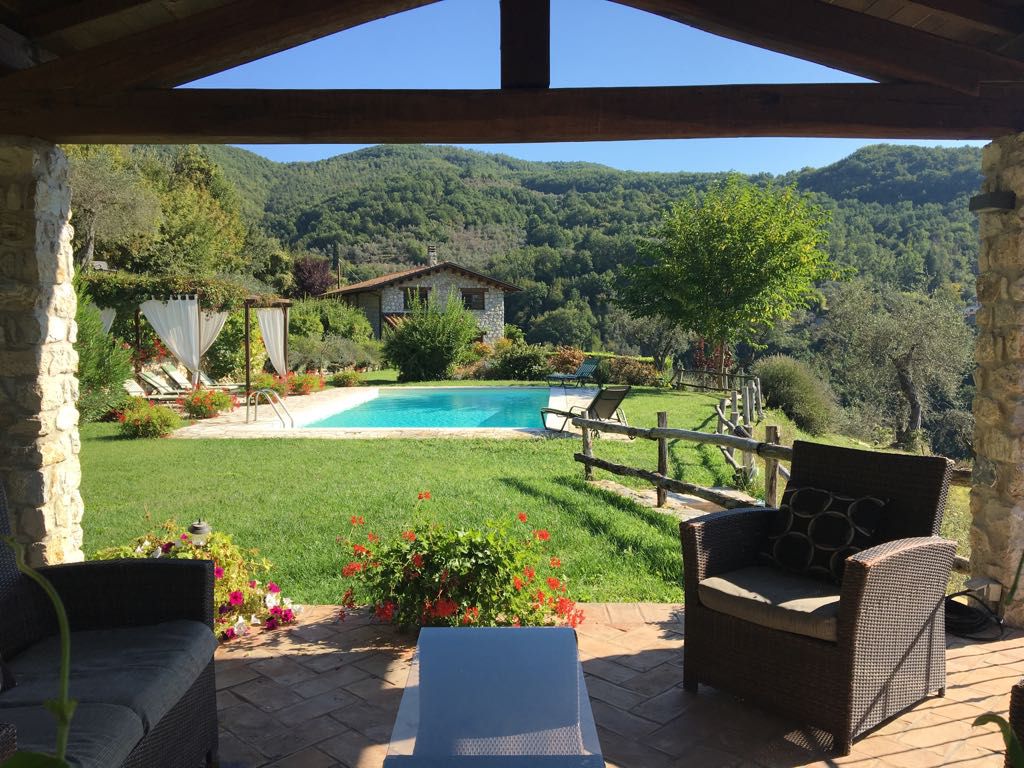 Private and communal spaces for everyone to enjoy
A major feature of the upstairs is the open-beamed ceilings, which add rustic charm to each of the four large, meticulously presented double bedrooms and stylish modern en-suite bathrooms. The two front master bedrooms feature French doors that open out to the spectacular, uninterrupted views of the Carrara mountains. Bedroom Three has beautiful views across the swimming pool to Castello d'Aquila – the Eagle's Nest Castle. Bedroom Four, with two single beds, overlooks a terrace and herb garden.
Booking Enquiry
Amenities
What's Included

Classic Tuscan farmhouse-style home
Located on 10 acres of secluded and private gardens, olives, and woodland with spectacular views of the Carrara mountains.

4 double bedrooms
All bedrooms are en-suite and have stunning views of the property and surrounding area, including the Carrara mountains and the eleventh century Castello d'Aquila. Comfortably sleeps up to 8 people.

Large private salt-water swimming pool
With shaded pergola, pool furniture, chestnut-beamed pool house with full bathroom.

Fully-equipped chef's kitchen
The stylish top-of-the-range chef's kitchen leads to the outdoor kitchen and a delightful terrace eating area.

Spacious outdoor kitchen
With a traditional wood-burning pizza oven, open grill, stone sink, and marble worktop.

Wifi
The property has complimentary Wifi and excellent cellphone coverage.

Crystal clear satellite TV
Enjoy a wide selection of channels, ideal for evenings at the house.
Messages from Guests
Testimonials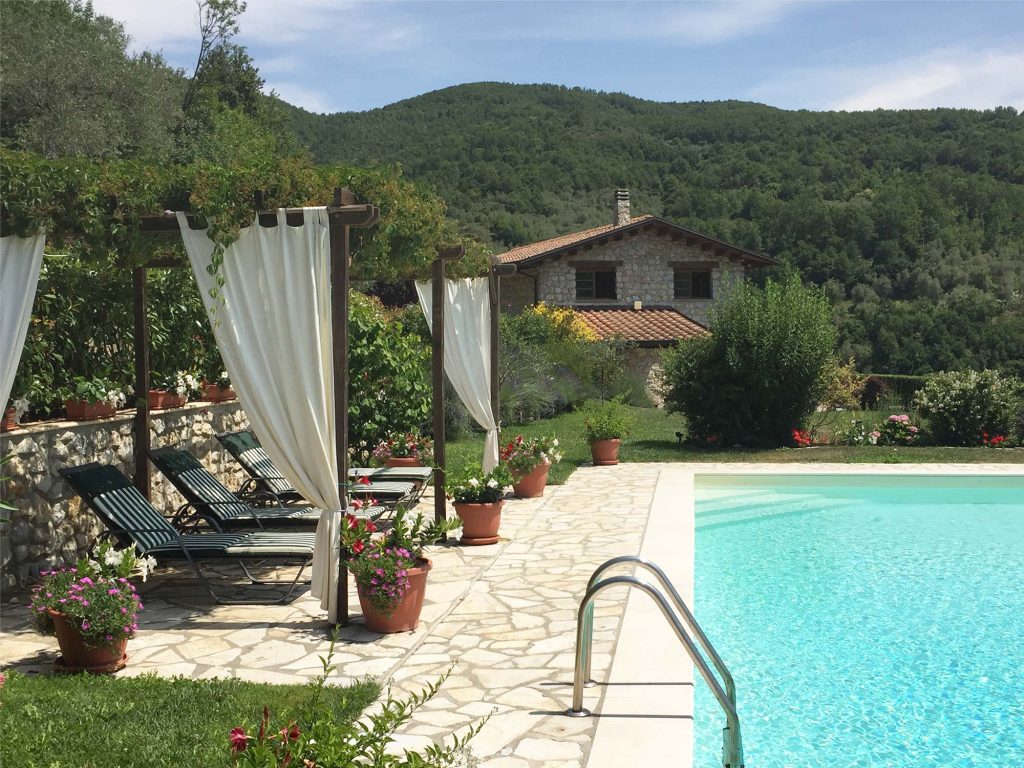 A wonderful time in a unique house and setting… Loved having a pool all to ourselves… A relaxing place. Grandson had a ball running about garden and jumping in swimming pool. Our daughter and son-in-law were here for their honeymoon in September 2011 and loved it so much we all came for son-in-law's 40th. They loved the new features, the road, and gazebo.
John, Linda, Lauren, Mark, & Caleb
Scotland
I had an amazing time in Casa Lucia. I really loved the garden, especially the pool and pool house. I also loved the croquet set. The pizza oven was amazing and so was the view! A brilliant two weeks!
Clare
Scotland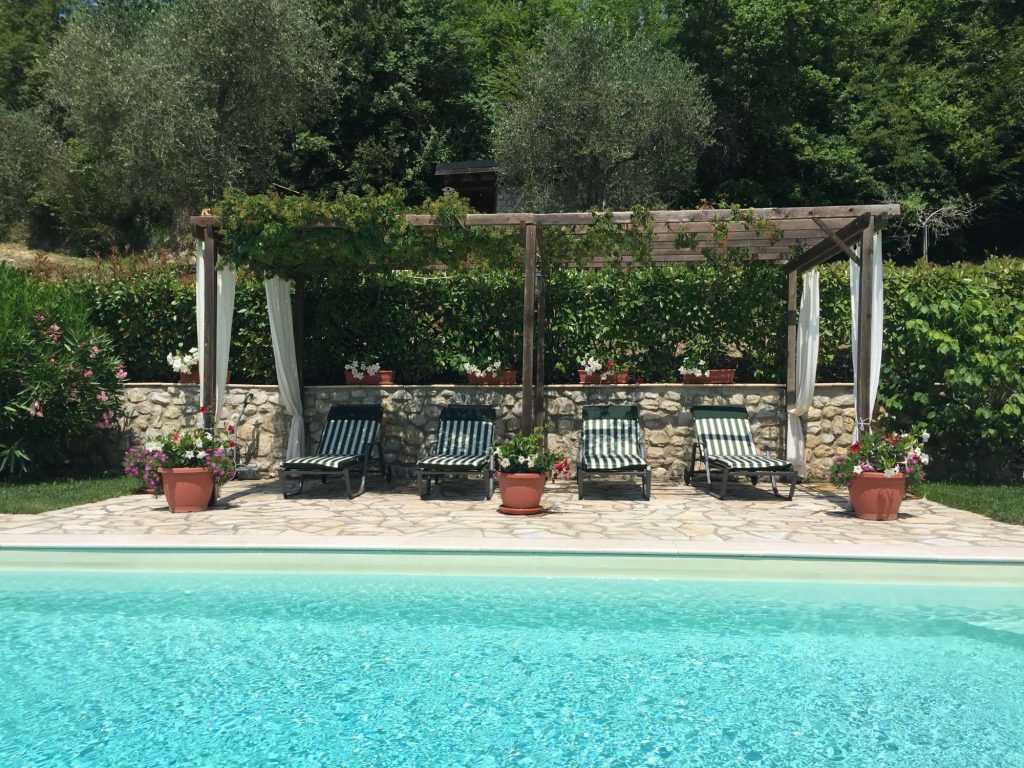 Lovely to have all the family together here at Casa Lucia. A beautiful house, gardens, and view. A joy to return to the tranquility here after our days out… Kids enjoyed the pool – and the midnight swimming.
Felicity and Duncan
Scotland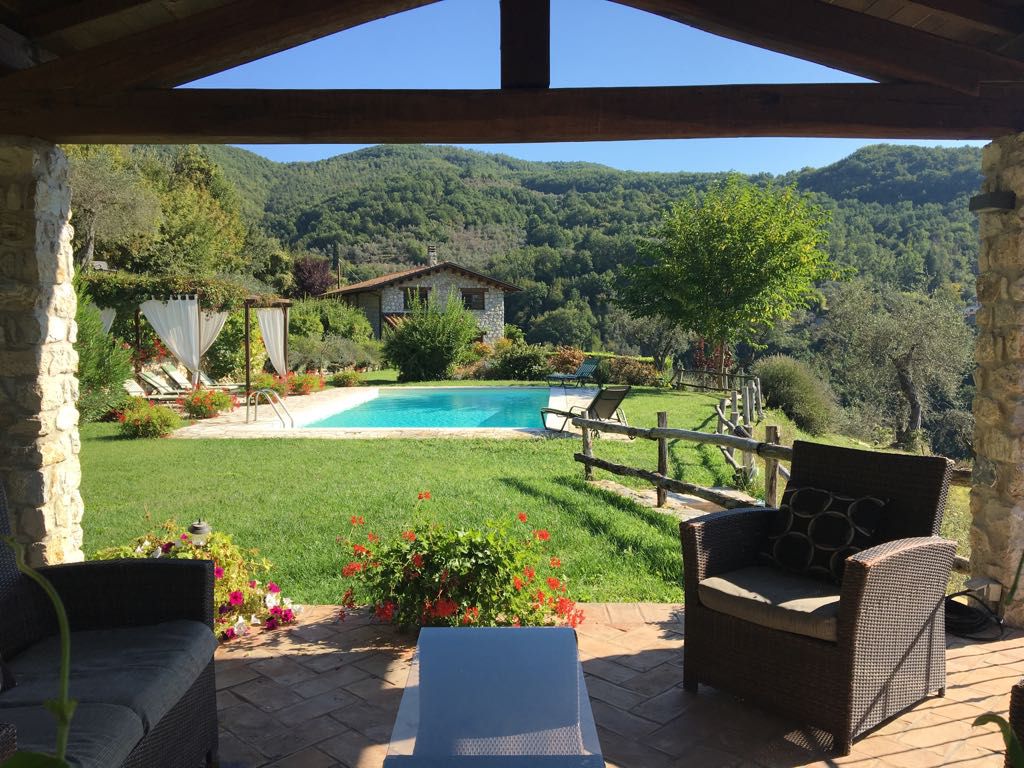 Sometimes we are lucky enough to glimpse a little bit of heaven on earth – Casa Lucia is it! We adore everything about this wonderful home, the fabulous setting and the glorious wild life. On cold wet, gloomy days in England, I shall remember the swallows diving over the pool, and the view …the very special meal to celebrate our 25th wedding anniversary was perfect and something we will always remember. Til' the next time, every blessing and many thanks.
Mike, Sue & Hughie
UK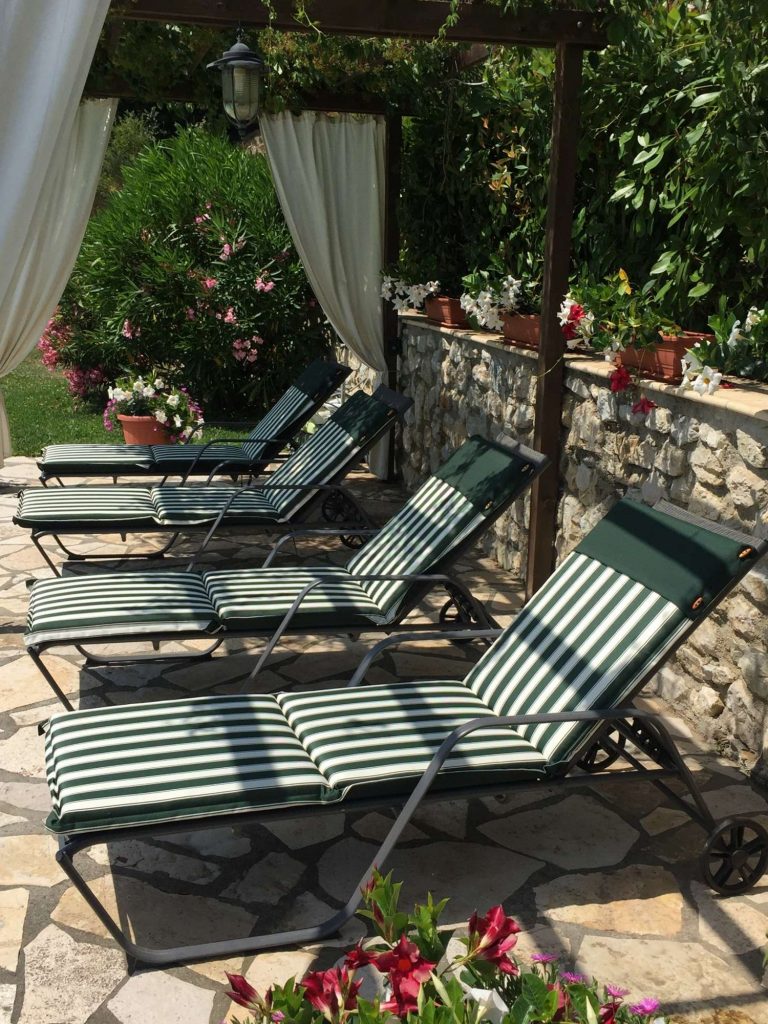 We have loved our week at the bella Casa Lucia. What a spectacular location and amazing home you have created here. From the adventure of getting to this beautiful location to the gorgeous views of the mountains that change with the time of day and the weather and the many relaxing sitting and eating areas to view this from – it was a great place to spend time with family after travelling around Italy for two weeks prior. Of course the kids loved the pool – couldn't get enough of it. We enjoyed having pizza cooked for us by Danilo and Elysa. We will always remember this special time at Casa Lucia.
Julia, Vitas, Lukas, and Sara
California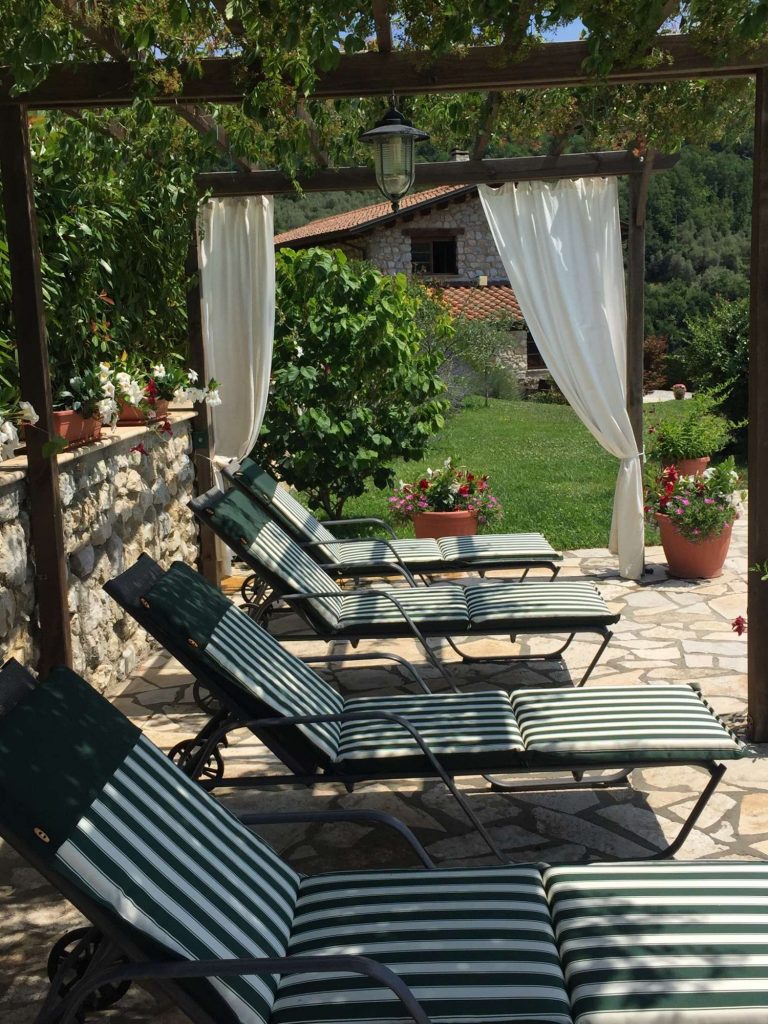 What a joy to be included with our family in your beautiful home. We loved the many places to gather – to eat, read, visit, play games and just relax. After three days in Rome it was a welcome respite. You have created a true treasure here. Thank you so much for allowing us to have this experience.
Janet and Jack Fairchild
USA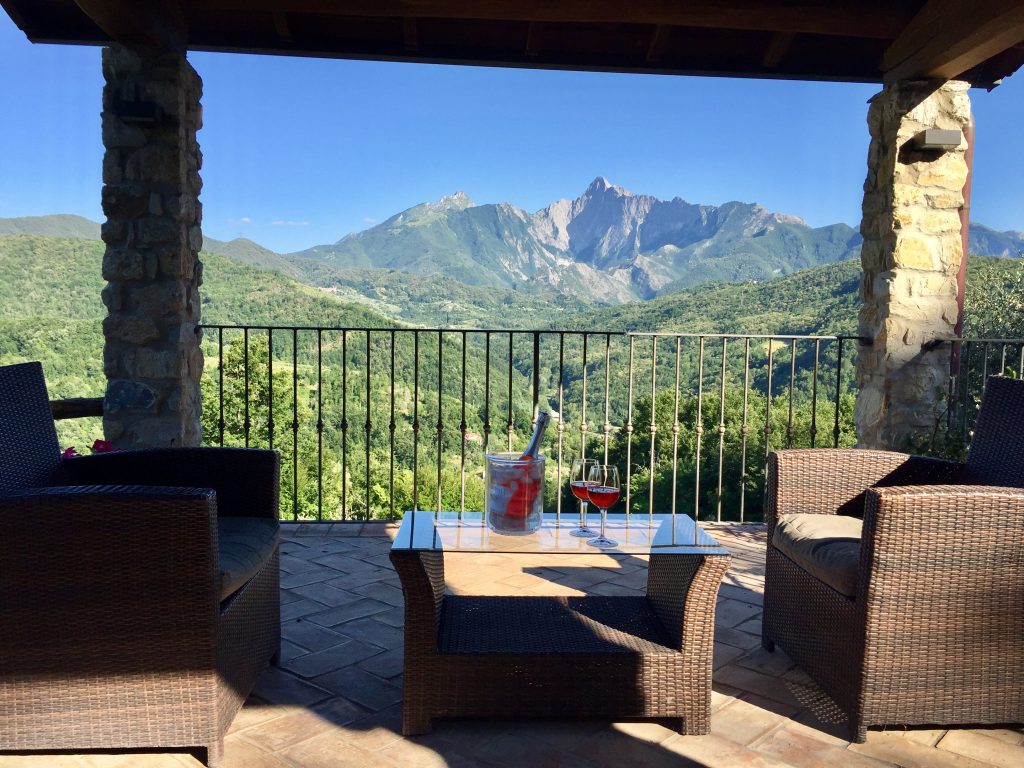 Thank you so much for sharing your lovely home-away-from-home! We have had such a nice week here. We are all going to miss our alfresco dinners, bocce at sunset, and sun bathing by the pool….we'll just have to come back soon.
Erin, Javier & Gabe Finn, Karen M, Karen S, Liz and Steph
California, USA